With seven days or less remaining in the 2014 lame-duck session, members of the Freedom Michigan coalition (including Strategic Staffing Solutions) are calling on House Speaker Jase Bolger to advance legislation updating the Elliott-Larsen Civil Rights Act to protect gay and transgender Michiganders to a full vote on the House floor without delay.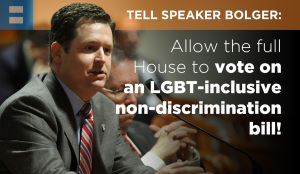 The call for action comes on the heels of today's historic hearing in the House Commerce Committee, the first-ever in state history. The hearing showcased widespread support among leaders in the business, faith and lesbian, gay, bisexual and transgender communities for this important legislation.
While the committee failed to vote on this measure today, Speaker Bolger has the power to allow this matter to come to a vote of the full House. Allan Gilmour, former vice chairman of Ford Motor Company, was among the prominent Michigan business leaders who testified today, underscoring the urgent need for lawmakers to pass the legislation before lawmakers end the 2013-14 legislative session later this month.
"While the climate for diversity and inclusion in business has steadily improved, the climate in the state has not kept up," Gilmour testified. "It is necessary for our elected officials to exercise leadership and transmit the message that discrimination will not be tolerated. It is my hope to see the law amended this lame-duck session."
Also testifying in favor of the inclusive legislation was Jeff Padnos, president of a scrap processing and recycling company based in Holland that bears his name.
"The breadth of business support was impressive and should help bring together those who might otherwise disagree," Padnos said after the hearing. "I was encouraged by the legislators' testimony and would be disappointed if a bill doesn't pass. I'm hoping the governor and speaker provide the leadership to get it done."
Other key business leaders who provided statements of support included Whirlpool Company spokesman Jeff Noel, Herman Miller CEO Brian Walker, Strategic Staffing Solutions CEO Cynthia Pasky and The Dow Chemical Company's Global Regulatory Leader, Dr. Gary Rudgers.
All four companies are among founding members of the Michigan Competitive Workforce Coalition, through which more than 80 leading businesses and non-profit groups are working to win legislative approval of the inclusion of sexual orientation, gender identity and gender expression in Elliott-Larsen Civil Rights Act.
The coalition expanded its efforts last month by launching Freedom Michigan, a bipartisan campaign that has already mobilized tens of thousands of Michiganders to contact their lawmakers in support of inclusive non-discrimination protections. The campaign has deployed organizers and recruited hundreds of volunteers to amplify existing support in key legislative districts across the state for updating the Elliott-Larsen Civil Rights Act to protect gay and transgender people from discrimination.
"Whirlpool Corporation supports a fully inclusive amendment to Elliott-Larsen that includes the transgender community," said Noel, vice president of communications & public affairs. "Supporting diversity with inclusion is good for business, it's good for Michigan, and it's quite simply the right thing to do."
ACLU executive director Kary Moss made similar points during her testimony before the committee.
"Every day without these protections is another day that gay and transgender Michiganders live in fear of discrimination," said Moss, who's also a co-chair of the Michigan Competitive Workforce.
"If the full House were to vote today, we're confident an inclusive bill would pass," Moss said after the hearing. "While the House committee could return to this legislation before adjourning this year, time is running out. We know Speaker Bolger believes discrimination is wrong and we respectfully request he use his power to allow all members of the House to vote their conscience on this critical bill."
Polls show the vast majority of state residents believe discrimination is wrong and agree no one should be fired, kicked out of their housing or denied healthcare services just because they are gay or transgender.