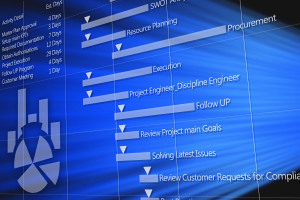 We have an opportunity for an Infrastructure Project Manager with one of our clients in Bloomfield, CT. They are looking to fill this position as soon as possible so we are accepting resumes now.
Specific Areas of Responsibility:
Manages multiple complex projects simultaneously; some are enterprise project management (EPM) assignments where the PM will be responsible for all project delivery teams across IT, and some are ISG-only projects partnering with application project teams.
Ensures all projects, directly assigned to PM and oversight of team members' projects, are delivered on time and within budget, adhere to high quality standards, and meet customer expectations
Leads diverse teams and navigates a variety of reporting relationships and matrix resources across ISG and IT
Ensures projects are delivered on time and within budget, adhere to high quality standards, and meet stakeholder expectations
May manage and direct one or more project teams, establishes role expectations for all ISG project team members, and provides performance feedback to resource managers of all project resources
Creates and manages ongoing project plans, schedules and budgets, and oversees project team members' artifacts to ensure consistency and quality
Understands project objectives, business and customer impacts, and provides context to ISG project team members to ensure alignment of priority and critical decisions throughout the project lifecycle
Responsible for the quality and timely delivery of all project artifacts within the collection of projects assigned to the team
Qualifications:
7+ years of IT work experience, including 4 or more years managing projects in a management, supervisory or team lead capacity
Demonstrated experience delivering complex projects on time and at or under budget
Exemplary Project Management skills including scope management, capacity planning, project scheduling and tracking documents
Extensive knowledge and expertise in the use of Project Management methodologies and tools such as MS Project, with a focus on infrastructure project delivery in support of infrastructure roadmaps
Demonstrated experience with infrastructure project management including consolidation, migration and refresh projects
Strong financial acumen, proven ability to connect the linkages of the project results to the financial and business benefits
Demonstrated ability in change management techniques
Working with us you are eligible for a full benefits package that may include:
Medical Insurance
Dental Insurance
Vision Insurance
401(k) Plan
Vacation Package
Technical Training
Visa Sponsoring / Transfer
Retention Bonus
To apply, send resume to Marvin Daugherty, Sourcing Specialist, at mdaugherty@strategicstaff.com, or @ (210) 278-3787 for more details.  Get the job!